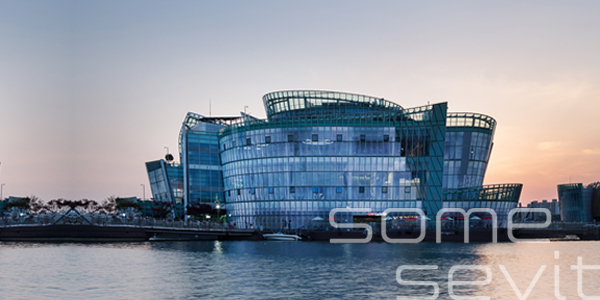 Sebitseom, the three glowing
islands that brighten the vista
of the Han River!
Sebitseom is a cultural complex built to be a landmark on the Han River in the heart of downtown Seoul, a place where you can enjoy special cultural contents at the water's edge. It is the world's first floating structure with buildings that can float on water. Sebitseom consists of three glowing islands that brighten the Han River gloriously, along with Yevit, a place that screens a variety of video clips and contents.
Sebitseom provides an elegant,
comfortable space for those
who visit the Han River to enjoy
It symbolizes the life of Seoul citizens and illuminates Seoul and the Han River. chavit is, like the sun rising in the east, a glorious light that opens up a vibrant day. Solvit rises to the top and illuminates all directions like the sun at noon. Gavit shines beautifully and elegantly as it, like the sunset, puts the crowning glory on the day. The media art gallery Yevit will be a venue for art like the delicate moonlight illuminating the night.
B.I(Brand Identity)
'some sevit' depicts three glowing islands floating amid the glistening waters of the mighty Han River. The word 'some sevit' contains the meaning of 'awesome' in recognition of the wonderful space that awaits visitors there.
'some sevit' which is world's first cultural space to float on water, consists of three islands that embody the process by which a seed 'some solvit' turns into a flower bud 'some chavit' and transforms into a flower in full bloom 'some gavit'.